Support for those over 70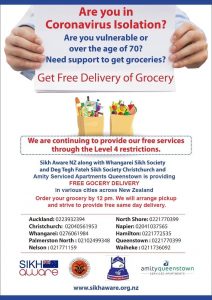 ---
Happy Easter to one and all. Thinking of you all over this period and the quiet mahi you are all doing whilst in lockdown.
Key points are attached. Stay Well, Stay safe and stay Isolated where you can. Thank you to all our essential workers.  A message from our CE Neil Denney.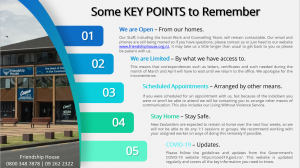 Kia ora koutou katoa,
We have received a lot of information about COVID-19 over the past few weeks, and most recently the significant steps taken by the Government to reduce the spread and impacts of COVID-19 in Aotearoa.
This means Friendship House doors will remain closed for the duration of the lockdown. This includes all room hire and groups that have been running out of the House as well as our JP Services.
The good news however is the NZ Government have placed Friendship House in a category of an essential service which means that we can still offer you help and support during this time.  We want to assure everyone that our approach during this uncertain time will be as flexible and practical as possible. We know that our services remain vital for some families and plays an important part to help keep us together as a nation.
We understand it's an unsettling time, with the country's health and wellbeing the major concern for everyone.  So, if you would like to talk to someone from Friendship house, or would like to make an appointment with one of our services please contact via the following:
Keep an eye on our Facebook over the next few weeks. We'll post any useful updates for whanau and friends of Friendship House.
We are all in this together!  Stay Safe. Be Kind!  Friendship House
Serena Murdoch
Community Centre Coordinator

Friendship House – The Heart of Change in Our Communities
DDI 8692851
serena@friendshiphouse.org.nz
www.friendshiphouse.org.nz
https://www.facebook.com/FriendshipHouseNZ
---
COVID-19 Testing
Talofa lava,
This holiday weekend, community-based COVID-19 testing centres are open.
There are 14 centres across Auckland offering free COVID-19 testing
seven days a week – including Easter weekend. You can view flyers for some of the centres, below.
Anyone who thinks they may have COVID-19 should phone their GP or Healthline (0800 358 5453) before turning up at a testing centre.
We welcome your submissions to Communitycations. Please send your news to me at lorenzo.kaisara@tamakihealth.co.nz.
Malo galue
Lorenzo Kaisara
Community liaison manager
Local Doctors
---
Supports for disabilities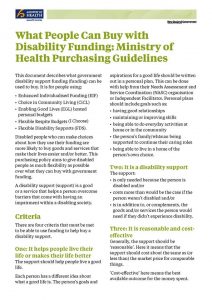 ---
The MOKO Foundation

---
Plunket Activities to share
Hi everyone
Just wanted to share that our Plunket Community Support Coordinators and Playgroup Coordinators have been busy sharing some activity ideas with our families. Some of these activities are attached and cater for children from 6 months to 10 years old. Also attached is a list of handy websites.
We have also been running lots of "virtual" sessions – see attached online activities 6-12 April for some things we will be up to this week.
The best place to find regular updates of upcoming activities are on our local South Auckland Facebook pages:
Plunket Manurewa – Poutokomanawa https://www.facebook.com/PlunketManurewaFamilyCentre/
Plunket Counties-Manukau https://www.facebook.com/countiesmanukauplunket/
Plunket Franklin https://www.facebook.com/PlunketFranklin/
Please feel free to share this with your networks and families who might find them useful especially in this time of isolation.
Families can still call Plunketline 24/7 on 0800 933 922 if they have any queries or concerns.
Warm regards,
Reena Singh | Community Support Coordinator – South Auckland
Hours of work: Monday – Thursday 9:30 – 2:30
Phone:  027 313 0575
Postal Address: PO Box 97353, Manukau, Auckland 2241
---
Talofa everyone
It is great to hear of the awesome work our Agencies are doing out there and our Pacific providers are indeed very grateful.
Attached is the updated list of PACIFIC family violence service providers around New Zealand who have agreed to be part of this listing. Available in printable versions PDF and PPT.  We are publishing this list on our facebook, website and Instagram sites as well as forwarding it to as many people as we can who can provide these lists to the general Pacific public (eg churches).  We are also providing it to the Work and Income Call Centre just in case it is required. Please also consider providing this information to your Call Centres as well.
---
INZ – COVID-19 Migrant and Refugee Information page on INZ website: Pacific Networks [UNCLASSIFIED]
Hope all is well with you.
Just letting you know that Immigration New Zealand (INZ) has developed a COVID-19 Migrant and Refugee Information page on our INZ website to provide links to key information, messages and resources. The page is for settlement service providers, NGOs and Community Groups to use to support recent migrants (including Pacific) and refugees and respond to their concerns and needs. The webpage includes information on support that is available to recent migrants and refugees, what they need to do related to various issues and how they can get help and advice in their preferred language.
Settlement service providers, NGOs and community organisations such as yourself that work with or have connections with recent migrants and refuges play a critical role in getting messages to them and ensuring they have the information they need at this time. This is particularly the case for those who rely on their community connections as their key source of information and for others who may not be able to access or navigate digital information.
We will continue to update the webpage as new information becomes available and will notify you when significant pieces of new information are published.  We also want to hear from you about concerns and issues that you are aware of that are specific to recent migrant and former refugee communities and what information and resources you need to support them. Please email us at settlement.information@mbie.govt.nz
Access to interpreters
The ability to access support in languages other than English is a challenge many recent migrants and refugees are experiencing at this time. Interpreters are available for over 180 different languages for the government COVID-19 helplines. Please share the following information about how to get an interpreter with recent migrants and refugees you work with:
Call the government helpline you need
Ask for an interpreter and tell them the language you speak
Wait and you will be connected to a professional interpreter who will help you talk to the agency.
The webpage also lists multilingual settlement information services that can help migrants and refugees with COVID-19 information. As the government helplines have long wait times we suggest that recent migrants and refugees could call these services first.
Information about Visas
In addition to the information on the COVID-19 Migrant and Refugee Information page the following pages provide key information recent migrants need to know about their visas. Keep checking back as these will be updated with new information.
Immigration New Zealand I Visa duration extension
Immigration New Zealand I Student visa holders
Thank you for the all the invaluable work you are doing to support our communities during the COVID-19 lockdown. The connections you have and your efforts to ensure that communities receive the support they need, are critical at this time.
Faafetai lava
---

Youthtown Programmes Go Online!
We already miss our Youthtown families and this would have been the week we'd all be getting ready for the school holidays.
So instead, we have brought Youthtown Programmes for ALL ages 5-18 into your homes FOR FREE!
It's called Youthtown Connect!
Our experienced programme staff (most of whom you'll know) have been working hard to put together a series of increasingly awesome content, aligned with our Youthtown Curriculum so that we can continue to unlock the potential in young people.
Youthtown Connect is being run across a number of online platforms, to encourage maximum participation, so check them out now!
There's something new every afternoon and EVERYONE is welcome!
Your local Youthtown FaceBook : to suit our 5-12's
Your local Youthtown Instagram : to suit our 13-18's
YouTube : YouthtownConnect : something for everyone!  https://www.youtube.com/channel/UCg27nIyuOYE84vNK_-lh5Fw/ 
WeChat : a voice for our Chinese community
Live Zoom spaces : safe, live spaces for each programme site
If you have any questions, feel free to email us on info@youthtown.org.nz and we'd welcome your ideas and feedback online.
Don't forget to keep in touch with the latest from Youthtown on our website blog.
Please stay safe everyone!